Dance Arts Academy . . . where big dreams start small!
We understand that your dancer's first steps are so important for them to be the best they can be.  Early exposure to caring, professional teachers with national experience and recognition will shape your dancer's quality education from the start.  We have assembled some of the top educators in the country ~ professional dancers, teachers, and choreographers who are training wonderful young dancers.  We feel that progress for the serious and recreational dancers is best realized in a professional atmosphere where students and teachers are treated with dignity and respect.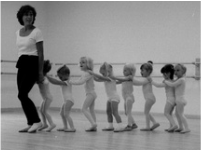 Pre-School
Our Preschool program focuses on body part identification, free expression, and spatial awareness. This is a wonderful introduction to all of the dance forms and includes movement and rhythm games done to inspiring music.
Dance With Me (Age 18-36 months)
Let's Dance (Age 2-3)
Creative Dance (Age 3-4)
Pre-K (Age 4-5)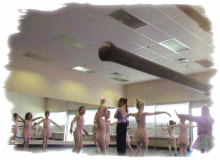 Pre-Ballet
Pre-Ballet dancers will begin learning ballet terminology, basic motor movement patterns while gaining strength and flexibility along with balance, coordination, and grace. Barre work is introduced and developed in these young dancers.
Ballet One (Age 5-7)
Ballet Elements (Age 6-8)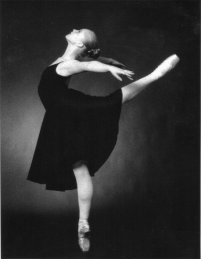 Ballet
Ballet students are exposed to a syllabus unique to our school, which embodies elements from Cecchetti, Russian, Bournonville, and Balanchine styles.
Cecchetti Ballet
Cecchetti Ballet is recommended for all experienced ballet students age 9 and Up committed to ballet class at least 2 times a week. Students must be in Children's Intermediate Level for Grade 1. This training is based on the method developed by Cav. Enrico Cecchetti, renowned dancer and foremost teacher of the artists of the Imperial Russian Ballet and Serge Diaghilev's Ballet Russes. Graded levels with appropriate examinations offered by the Cecchetti Council of America provide stimulus to the progress of the serious student.
Childen's Continuing (Age 7-10)
Mini Fusion Co (Age 8-10)
Childen's Intermediate (Age 9-12)
Junior Fusion Co (Age 10-13)
Preteen (Age 10+)
Childen's Advanced (Age 10+)
Teen Ballet (Age 12+)
Senior Fusion Co (Age 14+)
ITP 1-2 (Age 8-11)
ITP 3-4 (Age 9-12) Prepointe
ITP 5-8 (Age 11+) Pointe
ITP 10-13 (Age 14+) Pointe
Adult Ballet
Cecchetti Ballet Grades I-V (Age 9+)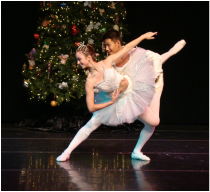 Ballet Variations
Ballet Variations of well known Classical Ballets such as Coppelia, Giselle, La Bayadere, La Sylphide, Nutcracker, or Swan Lake are taught in our most advanced levels of ballet.
Variations Ballet ITP 5-13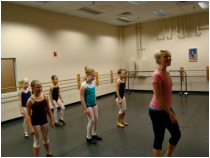 Tap
Tap is a form of dance characterized by using ones shoes, as well as the floor, as a percussive instrument. As such, it is also commonly considered to be a musical form as well. Two major variations on tap dance exist, rhythm (Jazz) tap and Broadway tap. Broadway tap focuses more on the dance side, and is widely performed as a part of musical theater. Rhythm tap focuses instead on the musical side, and practitioners consider themselves to be a part of the Jazz tradition. Dancers must work together to create the sound keeping their steps at the correct speed to match each other.
Tiny Tap (Age 3-4)
Pre-K Tap (Age 4-5)
Tap One (Age 5-7)
Tap Elements (Age 6-8)
Continuing Tap (Age 7-10)
Intermediate Tap (Age 9-12)
ITP 1-2 Intermediate Tap (Age 9-11)
Preteen/Teen Intermediate (Age 10+)
​High School Tap (Age 12+)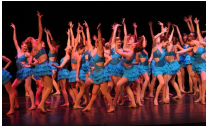 Jazz
Jazz has become one of the most popular dance styles in recent years. Jazz is energetic and fun, consisting of unique moves. To truly excel in jazz, dancers need a strong background in ballet.
Pre-K Jazz (Age 4-5)
Jazz One (Age 5-7)
Jazz Elements (Age 6-8)
Continuing Jazz
Intermediate Jazz
Advanced Jazz
​Preteen/Teen
ITP 1-13 Jazz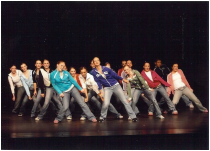 Hip Hop
Hip Hop is a free style dance form based on jazz movements and also incorporates hip-hop rhythms. This form of dance came about from and is influenced by today's music and culture.
Children's (Age 5-8)
Children's (Age 7-10)
Children's (Age 10-13)
Preteen/Teen
ITP 1-13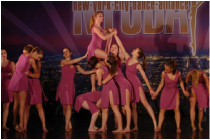 Contemporary/Lyrical/Fusion
These styles of dance are created from the fusion of ballet with jazz to create new and unique forms of movement and expression without the confined steps required in ballet and jazz.
Children (Ages 6-10)
Preteen (Age 10-13)
Teen (Age 12 & Up)
Intermediate
Advanced
ITP 1-13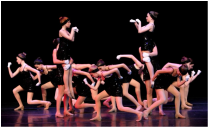 Musical Theater
Musical Theater classes are energy filled and will help to improve dance, technique, strength and style for a great showing in your school musical or just plain fun! We can't wait to share our Musical Theater knowledge with you!
Children's (Age 5-8)
Children's (Age 7-10)
Children's (Age 10-13)
Preteen/Teen
ITP 1-13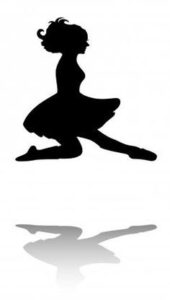 Celtic 
Celtic Irish Dance refers to a group of traditional dance forms originating from Ireland.  Irish stepdances fall into two broad categories based on the shoes worn: and 'soft shoe' (or light shoe) dances and 'hard shoe' (or heavy shoe).
There are four soft shoe dance styles: the reel, slip jig, light jig and 'single jig' (also referred to as 'hop jig').  Hard shoe dances include the hornpipe, the treble jig (also called the 'heavy jig' or 'double jig'), the treble reel (hard shoe dance done to reel music) and 'traditional sets', which are a group of dances with set music and steps. While theoretically standardized, different organizations recognize different traditional sets and slight variations exist between teachers. There are also "non-traditional sets" done by advanced dancers. These have set music, but not steps; the steps are choreographed by individual dance schools.
Soft Shoe (Age 7+)
Soft & Hard Shoes (Age 10+)
Student Placement
Since ballet is the basis for all dance forms, we recommend each student start with that discipline. Creative Dance and Pre-K levels are great starts for younger children. Placements are determined by age and experience. (Advancement is based upon focus and mastery of skills being presented in each level. Tap, Jazz, Modern, Musical Theater, and Hip Hop Levels are the same as ballet levels – start with beginning, then continuing, intermediate, and advanced. All dancers in intermediate level jazz and modern classes are encouraged to take ballet classes as well.)
Dancers attaining the intermediate level are encouraged to attend ballet class twice per week. Dancers wishing to work on pointe must be taking 2 ballet classes per week. Our Intensive Training Program (ITP) level is by faculty placement only. We recommend ITP students take a minimum of 5 classes per week.
Please call the studio with any questions regarding class placement.
Please read and understand Dress Code & Etiquette.