Adults Classes
2023-2024 Class Schedule (Subject to Change)
Fall Semester:  September 11, 2023 – January 20, 2024 
Winter Semester: January 22, 2024 – May 25, 2024
MONDAY  ||  3:15-4:15  ||  ADULT CONTINUING TAP
MONDAY  ||  7:45-8:30  ||  ADULT HIP HOP
TUESDAY  ||  7:30-8:30  ||  ADULT BALLET
WEDNESDAY  ||  12:15-1:15  ||  ADULT CARDIO BARRE
THURSDAY  ||  6:30-7:30  ||  ADULT YOGA & STRETCH
THURSDAY  ||  7:30-8:30  ||  ADULT BALLET
PRE-REGISTER ONLINE TO DROP-IN or REGISTER IN PERSON!  CLICK BUTTON BELOW TO VIEW and/or CHOOSE CLASS(ES)!
Dance Arts Academy's adult program consists of TAP, BALLET, CARDIO BARRE, HIP HOP and YOGA/STRECHING for our adult clients who would like to improve their quality of life through strength, balancing, exercise, and fun. Our professional faculty offers classes daily to enrich your experience. First Class Free! Drop in is $25.  A 10-class package is available for $200 (1 year expiration).
Whether you are passionate about dance or simply desire dance-based fitness classes, these classes are a wonderful way to achieve a healthy lifestyle.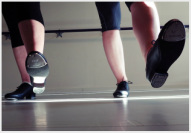 TAP is a fun style of dance that anyone can learn, regardless of previous dance experience.  Besides being so much fun, the benefits of tap dance include cardiovascular conditioning, strength, flexibility, and coordination.  Tap builds strength in the legs and feet in addition to increasing flexibility in the hips, knees, and ankles.  Cognitive abilities are also enhanced, as tap dancers must develop both mental and muscle memory to become proficient at tapping.  Our tap teacher, Laurie Murphy, has over 30 years of teaching experience and is brilliant at it!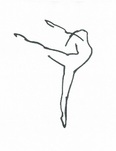 HIP HOP is influenced by a wide range of dance styles.  Hip Hop dance can be a form of entertainment or a hobby.  It can be a great way to stay active.  The best part of Hip Hop dance class is that you can express your artistic and creative side.  This fun style of dance reduces stress levels and improves mood.  Roxanne Blumerick will get you moving and grooving!  No experience necessary…just come expecting to get a good workout.  You will leave feeling energized!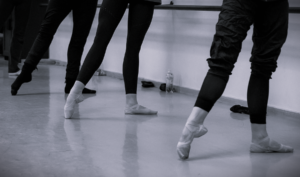 BALLET is a great workout for the entire body.  Ballet is a weight-bearing form of exercise which strengthens muscles, improves balance, promotes healthy bones and burns calories.  Because Ballet uses the full range of both major and minor muscle groups, its great for cognitive functions like coordination and concentration.  The legs, back, core are the main muscle groups which will benefit from strengthening through Ballet exercises, but we also strengthen our arm, neck, and foot muscles.  Through increased stretching with body weight exercises, muscles become longer, stronger, and more resistant to tearing or strain.  Ballet with Justin Koertgen is perfect for beginners or returning dancers wanting to revisit Ballet.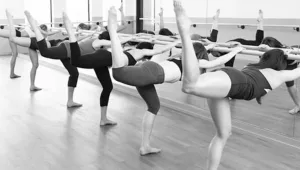 CARDIO BARRE is for everyone and you don't have to be a dancer or super fit to do it.  Cardio Barre is very beginner-friendly and adaptable to different skill sets and ability levels which combines traditional barre moves with interval training, so you get your heart rate up to get your cardio in, too.  Cardio Barre is designed to be a full-body, muscle endurance workout that focuses on major muscle groups including the arms, legs, glutes, and core.   It is distinguished from other fitness activities by its use of the ballet barre and its incorporation of movements derived from ballet combined with those drawn from yoga and pilates.  It focuses on low-impact, high-intensity movements designed to strengthen your body in ways that few other workouts can.  In addition to building strength, this full-body workout also develops agility and flexibility.
WHAT TO WEAR 
Adults wear leggings or capris and a workout tank or T-shirt along with recommend footwear:
Tap Shoes (Tap)
Sneakers (Hip Hop) No Street Shoes
Ballet Shoes (Ballet)
Grip Socks (Cardio Barre)
Wearing clothes that fit close to your body also helps your instructor get a better view of your form throughout class so they can give you advice on any necessary adjustments.